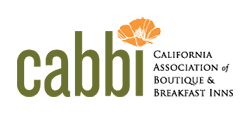 Lobby at the Tallman Hotel
Tallman Hotel
From the moment you enter, the Tallman Hotel's period-perfect details and sophisticated design choices feel firmly rooted in the romance of a turn-of-the-century hotel, but with a modern sensibility. In their restoration of the 1880s hotel, Candra Scott and Richard Anderson of the design firm Candra Scott & Anderson sought to honor the historic hotel's past while ushering it into the 21st Century.
Another important goal for the interior design was to evoke a sense of place, weaving the natural beauty of Upper Lake's flora and fauna into the decor. The resulting interiors suggest the home of a well-traveled naturalist with a style Candra describes as "sophisticated country chic.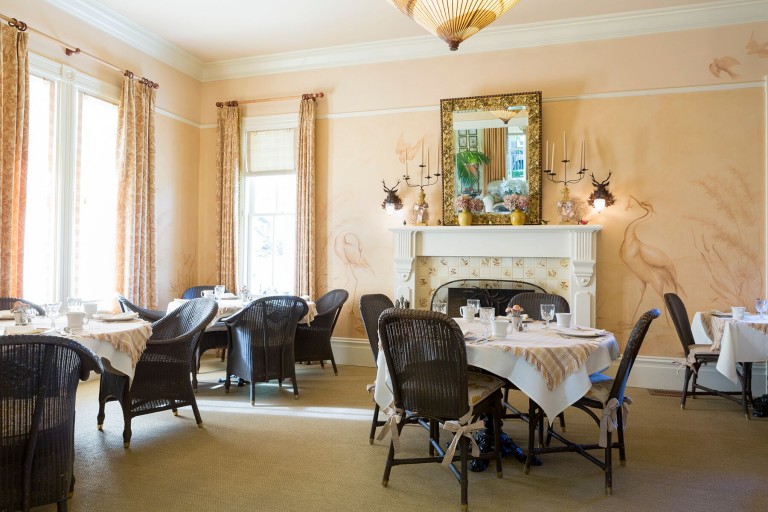 Dining room at the Tallman Hotel
Subtle sepia-colored murals by Carol Thosath cover the dining room walls, depicting the nearby marshes. A collection of brown and white transferware dishes are displayed in the breakfront. Tiles around the fireplace were hand painted with design elements from the transferware. A large vintage Chinese paper lantern painted with a bold modern spiral adds a contemporary spin.  Dozens of hand-colored bird prints cover the lobby walls and march up the staircase to the guestrooms.
Candra noted that the uniform size and coloration of the framed prints contribute to the design's modern appeal. In guiding others to achieve a similar look, Candra says that collections are always a large part of their own designs. "So if one has collections, concentrate on just one thing and showcase that in your home," says Candra. "Not only is it visually more interesting and harmonious, but it is a reflection of your own personal interests."