ART, ANTIQUES & LOCAL HISTORY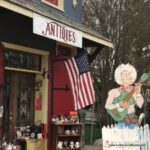 Upper Lake is a quiet little farm town, yet it offers a couple of Lake County's most unique antique galleries.  Right across the street from the Hotel is Oliveira's Antiques .  Tony and Margie Oliveira have an extensive and truly one-of-a-kind collection of Western antiques and memorabilia.  Behind the shop is a western museum.  Ask for a tour!
Another large and professional dealer is Vintage Antiques and Country Barn run by Rick Pace and Marilyn Palmer at 375 E. Hwy. 20, near Judy's Diner.
A truly one-of-a kind venue is Clark's Collectibles and Lunchbox Museum  at 3674 Hwy. 20, a 10-minute drive in nearby Nice.  Give them a call at 707-274-9952 to request a tour.
The best place to get a feel for local history, from the extensive Native American culture that existed here prior to European settlement to the agricultural nature of the County, is the Courthouse Museum at the center of town on Main St. in Lakeport.  The Native American displays are excellent.
While in Lakeport, the Lake County Arts Council has a nice gallery featuring local artists near the Courthouse Museum at 325 N. Main St. in Lakeport.

The Soper-Reese Theatre in Lakeport is the old single-screen movie house lovingly converted into a live performance venue.  If you've got time while at the Hotel, check to see what might be playing there.  Could be fun.
The closest movie multiplex is the Lakeport Cinema.  Mostly popular fare..  And, in the summer, they also have a good, old-fashioned drive-in theater.
Another highly recommended historical venue is the Ely Stage Stop and Country Museum, located on Soda Bay Road off Hwy 29 in Kelseyville.  The Lake County Historical Society has basically re-created an 19th Century rural environment at the old stage stop.  It's open most weekends and often hosts interesting events.