WINERIES
Never heard of Lake County wines?  You will soon. Due to the nature of our climate and soil (or terroir), our award-winning Lake County wines have established this area as one of the fastest growing wine regions in California. Our restaurant, the Blue Wing Saloon, is proud to offer a wine list consisting exclusively of Lake County wines.
The Lake County Winery Association provides a good overview of the opportunities to visit "wine country the way it used to be" – like Napa Valley 50 years ago before the crowds moved in.  Here's a map on the Association web site as a guide: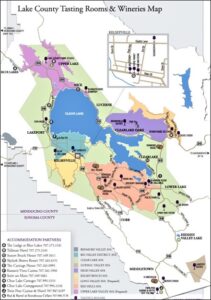 Here are a few of our favorite
Lake County producers
Round-the-Lake Wine Tour
Of the three dozen or so Lake County wine labels, well over half have tasting rooms open to the public.  All are fun and interesting.  The hotel can recommend one or two quality and knowledgeable limo drivers if you would like a reasonably priced guided tour.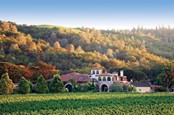 If you want to make a day of it, you might start out at Brassfield Estate Wines, in High Valley.  It's a circuitous road up from the town of Clearlake Oaks, but well worth the effort.  The wines are good and the facility is a real showplace.
From there, again well off the beaten track, you could visit the Six Sigma Ranch and Winery on Spruce Grove Road just past the town of Lower Lake.  This is a working ranch and a chance to experience agro-tourism at its best.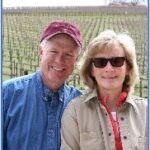 Doubling back on the other side of the Lake, you could visit the tasting rooms of Vigilance Wines and the Gregory Graham Winery on Point Lakeview Road just off Hwy 29 headed toward Kelseyville.  Vigilance, with its great view of the lower part of the Lake, is part of the Shannon Ridge family of wines, and Greg Graham (pictured with wife Marianne) is definitely one of the premier winemakers in Lake County.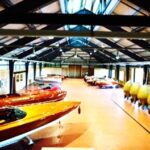 Back on Hwy 29 heading north, take a left on Red Hills Road and visit another Lake County showplace, the Boatique Winery.  The wines are excellent, the views superb and the owner's collection of antique and modern wooden powerboats is unmatched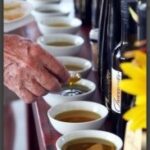 Continuing on to the farming town of Kelseyville, there are several tasting rooms on Main St.  Here it's worth a short diversion to the Chacewater Wines and Olive Mill facility on Gaddy Lane.  The wines are great, and you can finish off your tour with a sampling of the wonderful olive oils produced here.