RESTAURANTS
Dining options near the Tallman Hotel
UPPER LAKE
Blue Wing Saloon Restaurant — Of course…  It's the best.  707-275-2233 for reservations.

Double D's Coffee – A nice coffee shop down Main St.
Mi Chelas – A friendly, family-run Mexican restaurant on Main St.
Judy's Junction Diner – For real a "Truck Stop" experience, Judy's Junction is located on Hwy 20 across from the Super 8 Motel.  Breakfast and Lunch.
Treasure Cove Pizza – On Hwy 20 at the town entrance.  Good pizza.  Best to take out.
LAKEPORT
O'Meara Brothers Brewery – Craft brewery with good pub food in Lakeport.  The brothers, Alex and Tim, are great guys from Upper Lake who have created a very pleasant venue.
Thai Bistro – Quality Thai food in a "hole in the wall" Lakeport shopping center.
Park Place – Long-established restaurant by the waterfront Library Park in Lakeport. Newly remodeled, outdoor seating, good burgers.
Red's Skyroom – A nice experience sitting inside or out by the airport on Highland Springs Road.  Chef is Jeremy Zabel.
KELSEYVILLE
Saw Shop Public House – Good food and service on the Main Street in Kelseyville.  A very popular spot in this small but vibrant farming town.
CASINOS
Before the arrival of Europeans, the area around Clear Lake was one of the most vibrant concentrations of Native American communities in California.  All members of the Pomo linguistic group, there are now seven federally recognized tribes in Lake County, four of which operate well-run casinos.
Running Creek – located a mile from the Tallman Hotel in Upper Lake on Hwy 20.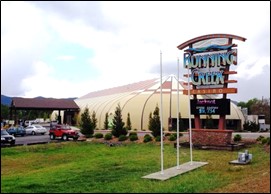 Robinson Rancheria – five miles from Upper Lake on Hwy 20.
Twin Pine – In Middletown on Hwy 29 on the way to the Napa Valley.
Konocti Vista – Off Soda Bay Road between Lakeport and Kelseyville.  Has boat launching facilities.
Cache Creek – Just outside the county line on Hwy 16 headed toward Woodland.  Big resort with regular entertainment.