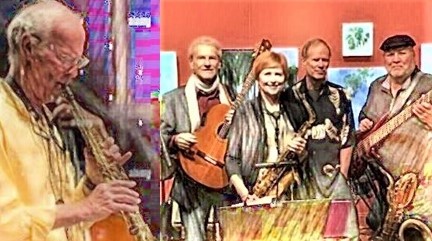 Each year in the winter and spring, the Tallman Hotel hosts an intimate series of Sunday afternoon "Concerts with Conversation." The shows feature some of the best musicians in Northern California and beyond, usually in the Meeting House next to the Hotel.  However, this being the last show of the series with expected Spring weather, this concert is programmed for the tree-shaded garden between the Hotel and the Blue Wing Restaurant.
The events run from 3:00 to 4:30 in the afternoon, offering plenty of time for a late lunch or early dinner at the Blue Wing Restaurant.  Tickets at $30 + tax can be purchased online at EVENTBRITE.COM or by calling the Tallman Hotel at (707) 275-2244 ext. 0.
This concert will feature rhythmic Brazilian jazz at its best with an accomplished quartet from Sonoma County called SAMBANOMA, with special guest, the incomparable PAUL MCCANDLESS on sax.
About the Artists:
SambaNoma is a collective of Sonoma County musicians and music educators united by their love of the infectious rhythms, sensual melodies, and lush harmonies of Brazilian music.
Composed of Ruth Ahlers on sax and flute, Christian Foley-Beining on guitar, Jim Passerell, bass, and Kendrick Freeman on drums, the group brings a wide array of performance experience and study in jazz and rhythmic Brazilian styles.
During a distinguished three decade career, Paul McCandless has been integral to the ensemble sound of two seminal world music bands, the original Paul Winter Consort and the relentlessly innovative quartet OREGON.  Now based in Healdsburg, Paul has been collaborating with Christian Foley-Beining on a jazz quartet there and playing with the innovative group Charged Particles.